Actor: Roger Moore
US Release Date: 24 May 1985
US gross, $ [adjusted]:50,327,960 [75,454,213]
Worldwide gross, $ [adjusted]: 152,400,000 [228,485,759]
World Premier - 22th May 1985, Palace of the Fine Arts, San Francisco
Locations: Siberia, London, Paris, Zorin's chateau, France, San Francisco, Silicon Valley California.

Source for above info: The " mother " of all James Bond books - James Bond: The Legacy.
Happenstance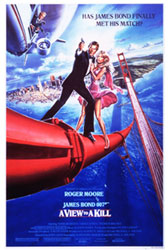 At 57, Roger Moore in A View to a Kill was the oldest actor ever to play Bond. And hence to give his ole bones some rest he decided to give his final performance as James Bond in A View to a Kill, and to finally hang up his Walther PPK. The teaser starts with, Bond searching for a microchip is chased by skiing commies. Bond gets on to a snowboard and then a Red commie filled helicopter chases Bond who is snowboarding to the tune of the Beach Boy's song "California Girls". Cool scene literally. The whirlybird is destroyed when 007 fires a flare into the cabin, blinding the pilot, thus crashing the craft into the side of a mountain. Later Bond climbs down a waiting iceberg shaped craft, which is manned (!) by a delectable damsel.
Damsel: I thought you'd never get back.
Bond: Well, there was a heck of a crowd on the piste.
Girl: Oh, Commander Bond.
Bond: Call me James, it's 5 days to Alaska.
Neon-painted dancers ski along in the horrendously dated titles with Duran Duran singing the title track.
Info taken from " MR. KISS KISS BANG BANG! ", the Granddaddy of all James Bond websites.
Coincidence
      
The discovery of the microchip leads MI6 to give Bond the responsibility to investigate a security leak at the microchip company Zorin Industries. Max Zorin (Christopher Walken) is Zorin Industries's mysterious owner. And his consort is the deadly May Day (Grace Jones). Bond gets to tangle with Mayday on the top of the Eiffel Tower in Paris where Mayday takes a leap into space and opens up the parachute to land far away from 007's grip. Next follows is series of events where Roger Moore sleepwalks through the role, reminiscent of the way Sean Connery did in Never say never again . No one can take away his screen presence as Bond but still we miss the Roger Moore who reached his prime in For your eyes only . But still this film doesn't disappoint as it is filled with the awe-inspiring stunts like the one on the Eiffel tower and a fire engine chase in San Francisco.
Enemy Action
      
Zorin has a plan to create an earthquake in San Francisco so that the Silicon Valley is destroyed making him the only producer of microchips. And in turn control the world like any other normal Bond movie megalomaniac. A San Francisco based geologist, Stacy Sutton (X movie queen Tanya Roberts) is employed by Max Zorin for old mines, which he needs as part of his plan to destroy Silicon Valley. As usual, Tanya looks like a Bond babe but does seem like it would be a bit of a bother for her to spell GEOLOGY. With help from the gorgeous Stacey, Bond puts a spanner in the Zorin's deadly scheme and here he is helped by Mayday when she sacrifices herself with the nuke. The movie climaxes in a midair Air balloon fight which later ends on the upper spans of the Golden Gate Bridge. Throughout the movie, Academy Award winner of "The Deer Hunter", Walken's talent is totally wasted, as he only has to kill whatever crosses his path. But who cares, this is a Bond film, not a David Lean epic. And as always, Bond manages to dump Zorin from the Golden Gate and finally is with Stacy in the shower and about that time M calls up Q, who is staking out Stacy's place.
M: Grandfather calling Q. What's the position?
Q: 007's alive.
M: Where is he? What's he doing?
Q: Just "cleaning" up a few details!
And as Roger Moore has gotten old of the role of James Bond, (but considering the Box Office, the audience still had not.) EON started searching for another actor to play Bond. And as they say "History repeats itself". They committed almost the same error they did when the had last cast George Lazenby in in On Her Majesty's Secret Service , when they got a actor (with a A), named Timothy Dalton to play James Bond in The Living Daylights .

Back to top

Best viewed (rather, JavaScript effects ONLY viewed) with MS Internet Explorer, versions 4 and up.
Mandar Salunkhe is not associated with EON Productions, Danjaq LLC, MGM/UA or any of the creators of the James Bond films. 
James Bond copyrights held by respective owners.
Before calling up your lawyers, for suing me for Copyright infringement, please check out  why  I build this site.