Actor: Pierce Brosnan
US Release Date: 17 Nov 1995
US gross, $ [adjusted]:106,429,941 [112,624,276]
Worldwide gross, $ [adjusted]: 350,731,227 [371,144,156]
World Premier - 13th November 1995, Dorothy Chandler Pavilion, Los Angeles
Locations: Arkangel (Arkhangelsk), USSR, London, Severnaya, St. Petersburg, Russia, Monte Carlo, French Riviera, Caribbean Island, Cuba.

Source for above info: The " mother " of all James Bond books - James Bond: The Legacy.
Happenstance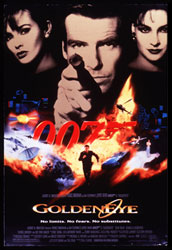 GoldenEye
Buy This Poster At AllPosters.com

The scene of a man running on a dam. Later, he jumps off the dam to complete a impossibly high bungee-jump. Thus kicks off GoldenEye, the film that resurrected Bond from the dead. The man enters the Russian chemical weapons plant and we haven't yet seen his face. we see an army man entering a toilet and then dropping in upside down. And we get to Pierce Brosnan as James Bond Agent 007 after a long gap of 6 years.
Bond: Beg your pardon, forgot to knock!
Later Bond meets Alec Trevelyan Agent 006 (Sean Bean) who has joined Bond for the mission.
006: Ready to save the world again?
Bond: After you, 006!
Mayhem ensues, 006 falls into the hands of the Russians and Bond escapes from the plant leaving behind a wake of destruction. Finally, he leaps off a cliffside on a motorcycle, and somehow manages catch up with a plummeting aeroplane. Reminiscent of the suspend your I.Q. days of Roger Moore. Accepted that Galileo and Newton must be cribbing in their graves, but they hadn't seen James Bond. This guy can do, anything. Anything. Not like the stiff and serious days of Timmy Dalton. The effect created is awesome. For GoldenEye, the first time the gun-barrel was a computer-generated image designed by Daniel Kleinman. You see the bullet actually leave the gun-barrel during the credits sequence in GoldenEye. And the best ever Bond titles roll out to the accompaniment of the title track by Tina Turner and Bono and the Edge (U2). Stilletto-heeled women break down the Commie symbols as Walther PPK's fall down. Undoubtedly, the best titles ever and a damn good teaser after many years since For your eyes only .
Bond is back.

Info taken from " MR. KISS KISS BANG BANG! ", the Granddaddy of all James Bond websites.
Coincidence
      
Cut eight years later, to Bond in his Aston Martin with Caroline (Serena Gordon) who has been sent by M to do an evaluation of Bond. Bond has a bit of a chase with the "girl in the next car" and leads to some reprimanding by Caroline.
Caroline: You are just trying to show off the size of your..
Bond: Engine?
Caroline: Ego.
Bond: We are having a pleasant drive in the country and you got to bring psychology in to it.
Caroline: Well, I was sent here to evaluate you.
Bond: Let's try and put that behind us, shall we.
And instead Bond does an through evaluation, as usual. Next, he meets the "girl in the next car" in a casino. She is an ex-Soviet pilot and KGB assassin, Xenia Onatopp (Famke Janssen) who kills her victims by crushing them to death with her lovely thighs.
Bond: Vodka Martini, shaken, not stirred. And for you?
Xenia: The same.
Bond: How do you take it?
Xenia: Straight up....with a twist! Thank you Mr...?
Bond: The name's Bond, James Bond.
Xenia: Xenia Zaragevna Onatop.
Bond: Onatop?
Xenia: Onatop.
Bond: We share the same passions. Three, anyway.
Xenia: I count two. Motoring and baccarat. I hope the third is where your real talent lies!
Bond: One rises to meet the challenge!
Bond: I like a woman who enjoys pulling rank.
Xenia: Nice to meet you, Mr. Bond.
Bond: The pleasure, I'm sure, was all mine!!
Marking the triumphant return to double entrendres, which were somehow lost during the Dalton days.
Later Xenia crushes an old British Admiral, and steals a Eurocopter PAH-2 Tiger helicopter which is immune to electronic warfare. Armed with the Tiger, Xenia and a Russian General go to Severnaya Space Installation, which they destroy by a blast from one of the two GoldenEye satellites. But not before Natalya Simonova, (Izabella Scorupco, Polish model and rock singer) a level two programmer escapes.
Meanwhile Bond is summoned to MI6 headquarters where he has a fantastic scene with Moneypenny.
Bond: Good evening, Moneypenny.
Moneypenny: Good evening, James. M's waiting in the situation-room. I'm to take you straight in.
Bond: Hmmm... I've never seen you after hours, Moneypenny, lovely.
Moneypenny: Ahh, thank you, James.
Bond: Out on some kind of professional assignment, dressing to kill?
Moneypenny: I know you'll find this crushing, 007, but I don't sit at home every night, praying for some international incident, so I can run all the way up here, dressed to impress James Bond. I was on a date, if you must know, with a gentleman. We went to the theatre together.
Bond: Moneypenny, I'm devastated!!! What will I ever do without you?
Moneypenny: Ah... as far as I can remember, James...you've never had me.
Bond: Hope springs eternal.
Moneypenny: You know, this kind of behavior could qualify as sexual harassment.
Bond: And what's the penalty for that?
Moneypenny: Someday you'll have to make good on your innuendos.
Such sparkling dialogue between Moneypenny and Bond was missing since Connery quit. The film marks a sharp departure from the action packed serious tone set by the previous two Dalton films. And later, we see M. The only difference is that this time M is a woman. And she gets to call Bond a sexist, misogynist remnant of the Cold war on his face. Ouch!
Bond is sent on the mission to find Goldeneye. Bond goes to Russia where he has a steamy experience with Xenia in a sauna.
Xenia: You don't need the gun, Commander.
Bond: That depends on your definition of safe sex.
He is lured to meet the head of the Janus syndicate, and surprise it turns out to be 006, back from the dead. Later Bond is tied up in the Tiger helicopter with (you guessed it right) Natalya Simonova. The copter fires missiles at itself and 007 does manage to get himself and babe out. No, it would be wrong to call Natalya Simonova a babe. As she is also a clever and resourceful gal, reminiscent of Anya in The spy who loved me .
The Russians capture Bond and Natalya and after a fantastic fight we are treated to the mother of all Bond chases, a destructive tank chase through the streets of St. Petersburg.
Enemy Action
         
Finally, after a score of demolitions in its wake, Alec's missile train stops the tank. Alec and Xenia manage to escape in a helicopter and Bond and Natalya are left to discuss the destruction.
Natalya: Do you destroy every vehicle you get into?
Bond: Standard operating procedure.
Natalya: Tell me; are there any other standard operating procedures I should be aware of?
Bond: Thousands. But I only pay them lip service.
After a bit of lip servicing, Bond and Natalya go after Alec who is hiding in Cuba. After being shot down, Bond has a fight with Xenia who needless to say has a crush on him. Bond does manage to dispatch off Xenia for a final assault on Alec's headquarters' hidden under a lake. After being caught by Alec, Bond is given the mandatory " I want to rule the world" lecture by Alec where he discloses his plans to steal a fortune from the Bank of England after destroying London. Alec shows his wits and the fact that he is almost Bond's equal when he examines the Omega Seamaster Professional watch and by pressing the right button shuts off the countdown on the explosive device, which Bond had set up. It is said, " Your best friend might be your worst enemy. Because he knows all your secrets."
But another Q device, an exploding pen does help Bond and leads him to a truly exploding climax with a fantastic fight between the two friends turned foes, where needless to say Alec falls to his gory death.
Alec: For England, James?
Bond: No for me.
This fantastic return for James Bond worked wonders at the Box Office and for the products endorsed by Bond, like the newly designed BMW Z3 convertible sports car. Hence Pierce Brosnan had to return, as James Bond in Tommorow never dies .

Back to top

Best viewed (rather, JavaScript effects ONLY viewed) with MS Internet Explorer, versions 4 and up.
Mandar Salunkhe is not associated with EON Productions, Danjaq LLC, MGM/UA or any of the creators of the James Bond films. 
James Bond copyrights held by respective owners.
Before calling up your lawyers, for suing me for Copyright infringement, please check out  why  I build this site.