Actor: Timothy Dalton
US Release Date: 14 July 1989
US gross, $ [adjusted]:34,667,015 [45,080,643]
Worldwide gross, $ [adjusted]: 156,200,000 [203,120,936]
World Premier - 13th June 1989, Odeon Leicester Square, London
Locations: Crab Key, Bahamas, Key West, Florida, London, Bimini Islands, Isthmus City, Olimpatec Meditation Institute.

Source for above info: The " mother " of all James Bond books - James Bond: The Legacy.
Happenstance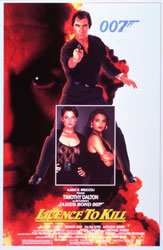 It was the summer of '89. BlockBusters like Indiana Jones and the Last Crusade (with Sean Connery as the Dr. Jones Sr.), Batman Returns and Lethal Weapon II were raking in the moolah. And here was our Bond trying to fight for a piece of the Box Office with them. And where Roger Moore on a head on collision with Sean Connery succeeded in Octopussy , Dalton could not.
The teaser starts with Bond at Felix Leiter's (David Hedison) wedding. As both the groom and the best man, are immediately summoned to capture drug lord Franz Sanchez (Robert Davi), Bond engages with a gunfight with the drug honcho and later as Sanchez tries to escape in a Cessna monoplane, Bond lowers himself from a U.S. Coast Guard helicopter and lassoes the monoplane that Sanchez attempts to escape in. Great stunt visually and later Groom and best man parachute down to the wedding, followed by the continuing tradition of listless dull titles.
Info taken from " MR. KISS KISS BANG BANG! ", the Granddaddy of all James Bond websites.
Coincidence
      
Sanchez with some inside help does manage to escape and kills Felix's bride and feeds Felix to a hungry shark. Bond visits his crippled (seems that the shark was in a Leiter mood, Bad joke) friend and decides to avenge the injustice.
This is perhaps the second time in the series after Diamonds are forever that Bond has a personal agenda against the villian. But somehow throughout the movie, we seem to feel that is there really a need for Bond to go after a Drug Lord. Can't this job be done by Lieutenant McClane(Die Hard), or the Lethal Weapon guys or even Don Johnson on Miami Vice or McGyver?
Throughout the series, Bond has been challenged by megalomaniacs and despots who stake their entire nations and empires out to destroy Bond. But here we have Bond waging a battle against a would be megalomaniac who sadly seems to be out of league of the Bond Villains Hall of Fame.
James Bond resigns from the British Secret Service and loses his license to kill (hence the title) and begins his vendetta against Sanchez. He meets a beautiful pilot Pam Bouvier (Carey Lowell),the only living contact the CIA have on Franz Sanchez and Sanchez's sexy girlfriend (Talisa Soto).
Enemy Action
      
Later, Bond also has a close encounter of the closest kind with Sanchez's mistress Lupe Lamora (Talisa Soto). The Lamora babe helps Bond to win Sanchez's confidence to escape from his possessive clutches. In the movie, we do have some cool underwater fights followed by a boat chase, and a scene in which Bond harpoons a plane and water skis to engage in a mid-air brawl over the controls of the plane. But the bad guys look like the type any normal action hero could handle with ease. Not your out of this world evil megalomaniacs. Finally, as always Bond knocks off the bad guys in a stunning climax in the Mexican desert with oil tankers galore exploding left, right and center and finally ends up in the arms of beautiful Pam Bouvier. But still compared to the high-octane action in Indiana Jones, Batman Returns and Lethal weapon II with which it was realeased, it was a wee bit less.
Ultimately the film was a box-office dud in the USA. Many blame the lackluster advertising campaign mounted by MGM/UA, the weakest ever for a Bond film. Rumors abound that Dalton was forced out of the role, either by Broccoli or MGM/UA. EON and MGM/UA maintain that they are just rumors. For five years there was no talk of any future Bond film. Talks were on to get Mel Gibson to play the next James Bond, to get a better Box Office draw. Mel refused. The producers went so desperate that they even thought of casting Hugh Grant as Bond after his success in " Four weddings and a funeral"(Yeah, it would be the funeral of 007). Later good sense prevailed and in 1994, EON announced that Pierce Brosnan would be handed the "license to kill" in Goldeneye .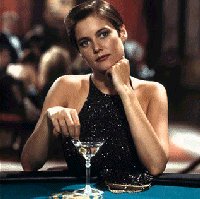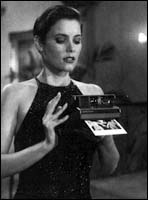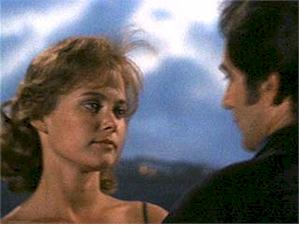 Back to top

Best viewed (rather, JavaScript effects ONLY viewed) with MS Internet Explorer, versions 4 and up.
Mandar Salunkhe is not associated with EON Productions, Danjaq LLC, MGM/UA or any of the creators of the James Bond films. 
James Bond copyrights held by respective owners.
Before calling up your lawyers, for suing me for Copyright infringement, please check out  why  I build this site.