Actor: Sean Connery
US Release Date: 8 May 1963
US gross, $ [adjusted]:$16,067,035 [$84,563,342]
Worldwide gross, $ [adjusted]: $59,600,000 [$313,644,210]
World Premier - 5th October 1962 at the London Pavilion
Locations: London, Jamaica, Crab Key

Source for above info: The " mother " of all James Bond books - James Bond: The Legacy .
Happenstance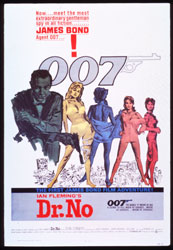 Dr. No
Buy This Poster At AllPosters.com

On a total budget of $900,000, Albert R. Broccoli and Harry Saltzman produced the classic that, although primitive compared to the later Bond films, defined a genre. Terence Young directed James Bond s first screen adventure, with a raw talent named Sean Connery playing the world's most recognizable screen icon.

Any Bond movie starts with the teaser (the short film which mostly has no link to the rest of the film), the gun-barrel,the Bond musical number and lots of girls prancing about. Not so in this film. The gun-barrel is there, but no Bond musical number. The screen is filled with a multitude of flashing, multicoloured circles. Later the Bond theme and flashing lights are replaced by silhoutes of gals dancing to a Calypso tune. Suddenly the gals are replaced by three doddering chaps with walking sticks to the accompaniment of the tune of three blind mice and we're straight into the movie.

Connery is introduced in the gambling club scene where he meets Sylvia Trench (Eunice Gayson) across the card table.
Bond: I admire your courage Miss....?
Sylvia: Trench, Sylvia Trench. I admire your luck Mr....?
Bond: Bond, James Bond!!
uttering for the first time the immortal Bond...James Bond line.
Coincidence
         
Bond in his first screen mission investigates a disappearance of a British agent in Jamaica where mysterious energy waves are interfering with U.S. missile launches. This film launched the list of mandatory items like he orders vodka martinis (shaken, not stirred), visits countries, and is told he will die by the villian. Another mandatory item shows up in the film when Bond is driving a sporty Sunbeam Alpine (before the Aston-Martin DB-5, Lotus Esprit and BMW became synonymous with 007) and being chased by the enemy agent car when he comes up on men working on the road. Bond makes it under the crane but the other car loses control and crashes downhill. Bond takes a look at the wreck...
Construction Worker: How did it happen?
Bond: I think they were on their way to a funeral!
Agent 006 in Goldeneye later mocked this wittiness was later as "What, James, no glib remark, no pithy comeback?" But that was 32 years later.
Further he visits Crab Key, the island of Dr. No (no relation to Dr. Munro, who also had a island). Here on the island Bond/we ogle at the beautiful Honey Ryder (Ursula Andress). The first ever Bond girl, Honey Ryder emerged from the sea in a skimpy white bikini singing "Underneath the Mango Tree", Ursula Andress guides Bond through Dr. No's island. Looking at Honey, Bond is also tempted to sing (yikes, Thank God this is not a mandatory item) "Underneath the Mango Tree".
As Honey emerges from the water dressed provocatively in a bikini:
Honey: What are you doing here, looking for shells?
Bond: No, I'm just looking.
007 must fights a poisonous tarantula ( he smashes it with his shoe) and encounters sexy femmes fatales like Zena Marshall as Miss Taro who makes an offer to Bond which he naturally doesn't refuse (another mandatory item) in her house while trying to keep Bond busy.
Enemy Action
            
Bond searches for the headquarters of Dr. No, a fanatical scientist who is implementing an evil plan of world domination (P.S. The most mandatory item), by working for SPECTRE to play havoc with the NASA space program.Only James Bond, can now save the human race from a horrible fate. Dr. No has no hands, which might explain for his name. Look Ma, No hands!
Bond and Honey are captured and taken to the hideout where they are given a royal treatment and a lecture by the honorable Doc where he reveals his diabolical plan to control mankind (mandatory again).
Bond: Tell me! Does the toppling of American missiles really compensate for having no hands?
Dr. No: Missiles are only the first step to prove our power!
Bond: Our power? With your disregard for human life you must be working for the East.
Dr. No: East, west, just points of the compass, each as stupid as the other. I'm a member of SPECTRE!
Bond: SPECTRE?
Dr. No: SPECTRE. Special Executive for Counterintelligence, Terrorism, Revenge and Extortion. The four great cornerstones of power, headed by the greatest brains in the world.
Bond: Correction, criminal brains.
Dr. No: The successful criminal brain is always superior. It has to be.
Finally Bond succeeds in dunking Dr.No into a boiling concoction of some radioactive liquid and leaves Crab Key in a spate of explosions with Honey. Finally Bond gets to know Honey better, when he Bond let go of CIA agent Felix Leiter's (Jack Lord) towrope when drifting in the ocean. Later we would see Bond repeat this feat an astounding 25 times in, around, under, or by water, most recently in Tomorrow Never Dies with Michelle Yeoh as Wai Lin.
This entertaining adventure succeeded in a huge way at the Box Office (final mandatory item) and hence Sean Connery returned as 007 in From Russia with Love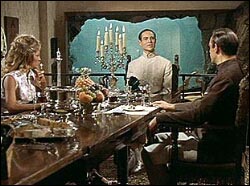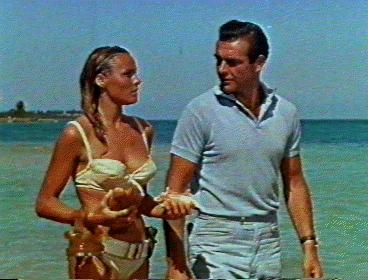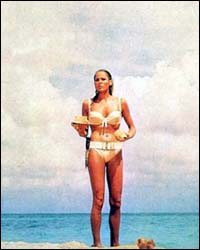 Back to top

Best viewed (rather, JavaScript effects ONLY viewed) with MS Internet Explorer, versions 4 and up.
Mandar Salunkhe is not associated with EON Productions, Danjaq LLC, MGM/UA or any of the creators of the James Bond films. 
James Bond copyrights held by respective owners.
Before calling up your lawyers, for suing me for Copyright infringement, please check out  why  I build this site.