Actor: Roger Moore
US Release Date: 26 June 1981
US gross, $ [adjusted]:52,340,842 [92,802,911]
Worldwide gross, $ [adjusted]: 195,300,000 [346,276,596]
World Premier - 24th June 1981, Odeon Leicester Square, London
Locations: London, Ionian Sea, Madrid, Corfu, Cortina dAmpezzo, Italy, Albania, Meteora, Greece.

Source for above info: The " mother " of all James Bond books - James Bond: The Legacy.
Happenstance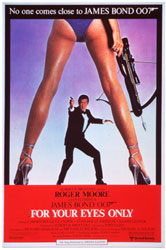 In the teaser, we see Bond visiting the grave of his dear departed wife. Later he is whisked off in a helicopter. But the helicopter is controlled remotely by a bald guy stroking his (oops…the) pussy. Seems familiar? Kevin McClory is supposedly the copyright owner of SPECTRE and Blofeld, thus EON has never used it since the early 70's. Hence Blofeld made a cameo appearance in the teaser sequence of this film although he was never really identified as being THE Blofeld.
After being tagged along for a while, Bond takes over controls of the whirlybird, scooping up the wheelchair bound baldie and tags him along from a bird's eye view of the land.
Blofeld: Mr. Bond. We can do a deal. I'll buy you a delicatessen in stainless steel.
Bond: All right, keep your hair on.
Blofeld: Put me down. Put me down.
Bond: Oh, you want to get off?
And Bond drops Blofeld into a very large chimney. Disposing of him early in the film was the way EON was saying Bond could go on without SPECTRE. The titles are not worthwhile, except for the appearance of Sheena Easton, the only singer of a Bond theme ever to appear in the titles.
Info taken from " MR. KISS KISS BANG BANG! ", the Granddaddy of all James Bond websites.
Coincidence
      
After a ship is sunk off the coast of Albania, the Cold War enemies begin a feverish search for its lost cargo: the powerful ATAC system, which will give the bearer control over Polaris nuclear submarines. As Bond joins the search, he suspects Kristatos (Julian Glover) of seizing the device. But not before meeting Melina Havelock (Chanel model Carole Bouquet), a Greek marine biologist whose parents are killed in Kristatos' search for the powerful ATAC system. This movie boasts the collection of arguably the best stunt sequences in a Bond film. Bond gets to meet Melina after the car chase from the estate where she killed Gonzales. Bond tries to convince her to leave her vendetta.
Bond: The Chinese have a saying: "before you set out on revenge, you first dig two graves".
Melina: I don't expect you to understand, you're English, but I'm half Greek. And Greek women, like Elektra, always avenge their loved ones.
Later Bond is introduced to Kristatos who suggests that Columbo, another Greek tycoon is the Russian agent. Kristatos introduces Bond to the supposedly innocent Bibi (Lynn-Holly Johnson) who is his ice skating protoge. With her tutor, Jacoba Brink, she is training under Kristatos' sponsorship for the winter Olympics. However, she tries to seduce 007 and for once Bond declines.
Bibi: Don't you like me?
Bond: Why, I think you're wonderful, but I don't think your uncle would approve.
Bibi: Him? He thinks I'm still a virgin.
Bond: Yes, well, you get your clothes on and I'll buy you an ice cream.
After a spectacularly choreographed ski and motorcycle sequence in which Bond manages to dispose of the goons, Bond meets Countess Lisl (Cassandra Harris) who is supposed to be getting information out of Bond. Instead, Bond finds out a good deal about Kristatos before Lisl is bumped off by one of his hitmen. Incidentally, Cassandra Harris was the latest Bond, Pierce Brosnan's late wife. Harris passed away in 1991 and Brosnan supports an ovarian cancer foundation in her memory.
Enemy Action
      
Keeping up with the tradition of the Bond in the Fleming novels, Moore shows the ruthless side of Bond when he mercilessly kicks ace assassin Emile Locque's auto over a cliff. Next Bond teams up with Columbo and along with Melina searches for the lost craft underwater. On surfacing they are captured by Kristatos who dangles them off his boat for a tour over razor-sharp coral reefs. Bond succeeds in surviving from this ordeal and then leads a final assault on to Kristatos's mountaintop fortress. After a perilous climb, Bond succeeds in knocking off the goons and Melina has her revenge when she saves Bond's life by killing Kristatos. And finally the ATAC console falls down the cliff to be shattered beyond repair. The world is safe again.
This taut Cold War thriller reinforced Roger Moore as James Bond 007 and he returned in Octopussy . But this time he was facing the biggest challenge of the series, when the best Bond there is, was and will be, Sean Connery decided to become Agent 007 in a non-EON production of Kevin McClory's Never say never again .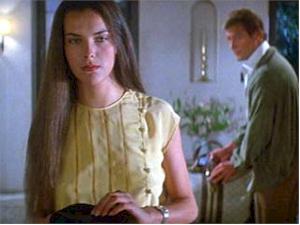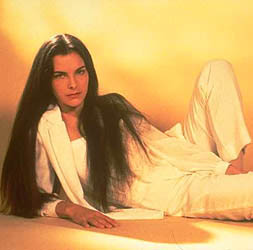 Back to top

Best viewed (rather, JavaScript effects ONLY viewed) with MS Internet Explorer, versions 4 and up.
Mandar Salunkhe is not associated with EON Productions, Danjaq LLC, MGM/UA or any of the creators of the James Bond films. 
James Bond copyrights held by respective owners.
Before calling up your lawyers, for suing me for Copyright infringement, please check out  why  I build this site.