Actor: Roger Moore
US Release Date: 10 June 1983
US gross, $ [adjusted]:67,893,619 [109,860,224]
Worldwide gross, $ [adjusted]: 183,700,000 [297,249,191]
World Premier - 6th June 1983
Locations: Cuba, London, East and West Berlin, East Germany, West Germany, Moscow, India.

Source for above info: The " mother " of all James Bond books - James Bond: The Legacy.
Happenstance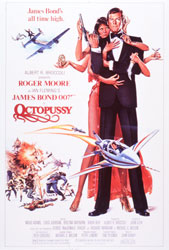 In the teaser, we see a clown running away from a pair of knife-throwing twins. The clown is agent 009. The clown is turned into a human pincushion by the knife throwers but still manages to reach the British Headquarters where he crashes the party (literally) and lays a priceless Faberge egg. Later we see Bond going into Cuba into a military base where he is captured, escapes with the help of a female consort and climbs into a small jet plane called Acrostar. The plane measures 12 feet long, weighed only 450 lbs., and could reach speeds of 300 m.p.h. The speed does matter as latter a heat-seeking missile chases Bond and plane. Needless to say, Bond destroys the commies and lands safely at a gas station to fuel up. Dull and non-exciting titles follow with "All Time High" sung by Rita Coolidge.
This movie had one special agenda. To stop Bond. That's Kevin McClory's James Bond. As when EON backed Roger Moore was running through the jungles of India, McClory backed Sean Connery was reliving the Thunderball days in Bahamas with the remake called Never say never again . Bond was facing his worst nemesis since George Lazenby.
Info taken from " MR. KISS KISS BANG BANG! ", the Granddaddy of all James Bond websites.
Coincidence
      
Cut to a a mad Russian officer to hurl mankind into World War III! It seems that by exploding a Nuke in a NATO base in West Germany, the nutcase wants to eliminate any hindrance to the charge of the oncoming commies. (Remember, this movie was made when people were being shot for crossing over from East Germany to West Germany).
Our Commander Bond is given the responsibility to investigate the murder of 009 in the teaser. The trail leads to the mysterious Octopussy (Maud Adams, back from the dead which she was in when she played Andrea Anders, Scaramanga's girlfriend in The Man With The Golden Gun .).
Incidentally, Maud Adams is the only woman to appear as a Bond Babe in two James Bond movies, as two different babes. But she is not the only woman to star in more than one Bond movie. Lois Maxwell was Moneypenny in 14 films. Martine Beswick was Zora, one of the fighting gypsy girls, in From Russia With Love and returned as Paula in Thunderball . She was also a dancing silhouette in the title sequence of Dr. No . And how can one forget, Bond's initial celluloid conquests, Eunice Gayson as Sylvia Trench in Dr. No and From Russia With Love .
Octopussy has a travelling circus, which has a load of curvaceous babes. Reminiscent of Pussy Galore in Goldfinger , Octopussy (the best Double entrendre after Pussy Galore) runs the circus as a cover for an elaborate smuggling scheme. Octopussy's charms lead Bond to India, specifically Jodhpur. The film was shot in authentic locales in India and reinforced the belief that India is a land of Snake charmers and holy men. In India, Bond meets the elegant Kamal Khan (Louis Jourdan) who is working with the Russian officer who has flown over the cuckoo's nest. To antagonize Kamal, Bond turns to one of his many talents, gambling. And this time he wagers the priceless Faberge egg, into which now he has put a transmitter, which sends its signals to 007's Mont Blanc fountain pen.
Bond: I think that this should be ample security, don't you?
Kamal: Play, Mr. Bond, you need a great deal of luck to get out of this.
Bond: Oh luck, then I should use player's privilege and use your lucky dice. It's all in the wrist.
Needless to say, Kamal Khan loses heavily and hence Magda (Kristina Wayborn), a acrobat in Octopussy's circus, is sent to seduce Bond in order to steal the Faberge egg. Bond's watch monitors the tiny homing transmitter placed into the imitation Faberge egg that he allows Magda to steal but not before sleeping with her first. But, of course. Next Bond is taken to Kamal Khan's palace where he meets the mandatory henchman, Gobinda (Kabir Bedi). Later he is taken to a hunt. Where the prey is Bond.
Here, Bond literally turns into a Tarzan, swinging vines and ordering a tiger to "Sit". (The tiger does sit!!!) Bond escapes from the royal hunt and climbs into a boat full of tourists.
Tourist: Are you with our group?
Bond: No Ma'am, I'm with the economy tour.
Enemy Action
         
Next stop, West Berlin, where Bond treats us to a great train ride where the twin knife throwers we saw in the teaser chase him. Later in West Berlin, Bond is chased by the German police when he enters the NATO military base and then dressed as a clown (yikes!!!), enters the circus tent and defuses the Nuke, just in time. Bond saves the world again.
And to take care of the unfinished work in India, Bond returns to a exciting fight in the royal palace of Kamal Khan and later an mid-air fist fight on top of Kamal's plane with Gobinda. As always, Bond finishes off the bad royalty and ends up on a boat with Octopussy.
With its amazing stunts, scenic locales, and silly humor (like the part where Bond in a ape suit tries to check the time), Octopussy was much better entertainment and a bigger Box Office success than the rival Bond production, Never say never again .
And hence due to the resounding success of Octopussy, Roger Moore did return for the last time in A view to a kill .

Back to top

Best viewed (rather, JavaScript effects ONLY viewed) with MS Internet Explorer, versions 4 and up.
Mandar Salunkhe is not associated with EON Productions, Danjaq LLC, MGM/UA or any of the creators of the James Bond films. 
James Bond copyrights held by respective owners.
Before calling up your lawyers, for suing me for Copyright infringement, please check out  why  I build this site.