Actor: Roger Moore
US Release Date: 29 June 1979
US gross, $ [adjusted]:62,723,559 [139,385,687]
Worldwide gross, $ [adjusted]: 202,700,000 [450,444,444]
World Premier - 26th June 1979, Odeon Leicester Square, London
Locations: Yokon Territory, Canada, London, Los Angeles, Southern California, Venice, Rio de Janeiro, Rio Tapirape, Brazil, Outer Space.

Source for above info: The " mother " of all James Bond books - James Bond: The Legacy.
Happenstance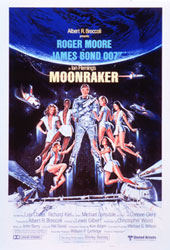 The end credits from The spy who loved me said James Bond would return in "For Your Eyes Only". But Star Wars was a phenomenon. And to cash into the Outer Space mania, Bond decided to become an astronaut. In a teaser start similar to The spy who loved me , a space shuttle is stolen and the world is in danger again. Bond is busy in the arms of a beautiful woman in a plane. In a stunt as height defying but not as spectacular in the previous movie, Bond throws himself from the plane. Suddenly Jaws appears and Bond breaks his ripcord steals a parachute and lands safely. Jaws is left flapping his arms.The titles look like a remnant from the previous film as we see the trampolines once again. Shirley Bassey does the singing honors.
Info taken from " MR. KISS KISS BANG BANG! ", the Granddaddy of all James Bond websites.
Coincidence
      
The clues point to billionaire Hugo Drax (Michael Lonsdale) and hence Bond sets off to meet him. Here he meets Corinne Dufour (Corinne Clery) who is Drax's personal helicopter pilot.
Corinne: The Drax residence. Every stone brought from France. Cute, isn't it?
Bond: Magnificent. Why didn't he buy the Eiffel tower as well?
Corinne: He did, but the French government refused him an export permit
Bond works his charms on Corinne and unlocks Drax's secrets. Drax however, and has her mercilessly hunted down by a pair of vicious dogs. Bond gets to visit the Space facility where he meets Dr. Holly Goodhead (Lois Chiles) who is a NASA trained astrophysicist and a CIA agent.
Bond: I'm looking for Dr. Goodhead.
Goodhead: You just found her.
Bond: A woman?
Goodhead: Your powers of observation do you credit, Mr. Bond.
Next to test out Bond, Goodhead invites him to try out a G-Force machine.
Goodhead: Oh, come-on now Mr. Bond, a 70-year old can take 3 G's.
Bond: Well, the trouble is there's never a 70-year old around when you need one.
One of Drax's goons meddles around with the controls and Bond has the spin of his life. He is eventually saved when he fires one of the darts activated by nerve impulses from the wrist muscles. After being spun around, Bond departs for Venice, where we have a fantastic boat chase and a visit to the Venini Glass Store where Drax is manufacturing poisonous chemicals. After a brief fiasco afterwards, Bond departs for Rio de Janeiro, Dr. Goodhead in tow. (Isn't this eerily like The spy who loved me ?)
Enemy Action
      
Bond's contact in Brazil, Manuela (Emily Bolton) almost is bitten off when she runs into Jaws during the middle of the carnival season. But Bond saves her and later is attacked by Jaws when on a cable car.
Goodhead: You know him?
James: Not socially, his name is Jaws. He kills people.
And after jumping off the cable car wire
Holly: Have you broken something?
Bond: Only my tailor's heart.
Jaws meets Dolly (Blanche Ravalec), a girl with blond pigtails who takes an instant liking to the monster. She helps the huge henchman out of the rubble of a cable car station he has just destroyed, and stays with him.
In the melee Goodhead is kidnapped but Bond discovers the location of Drax's secret hideout. Bond's powerboats around in the Amazon and when attacked by Jaws goes down a waterfall and converts the boat into a glider. He lands near a nubile nymphet who lures him to a pond where he is thrown into to become the meal of Drax's pet python. After injecting a lethal concoction into the reptile, Bond emerges out.
Drax: Mr. Bond! You defy all my attempts to plan an amusing death for you! You're not a sportsman, Mr. Bond! Why did you break up the encounter with my pet python?
Bond: I discovered it had a crush on me!
Later as is the tradition, Drax explains in great detail his master plan to destroy all human life on earth and to establish a master race of perfect specimens. Then Drax puts both agents in the blast pit below a Moonraker Space Shuttle about to depart, Bond pops open the rear of the watchcase to reveal a tiny coil of explosive plastique. He fixes the explosive to the exit hatch lock, and then pulls out the upper right control button from the watchcase to produce a long detonator wire. This he plugs this into the explosive, which he detonates by pushing on the right side of the watchcase.
Bond and Goodhead hitch a ride on the Space shuttle, signal to NASA and with the help of Dolly, Jaws turns against Drax when he is ordered to throw Bond into Deep Space. Bond and the NASA Space fighters fight a duel with laser guns with the Drax troops and finally Bond succeeds in destroying the Space Station and Drax. But in a tragic moment, Jaws sacrifices his life so that Bond and Goodhead can escape in a Space Pod. Next Bond goes on shooting the Poison gas filled globes so that the world is safe again.
And this leaves him with plenty of time till he lands on Earth again. When finally, NASA Command Center establishes audio-visual contact with the spacepod, they see them to find them floating in the air with a sheet over them:
M: ....007!! My God, what is Bond doing?!!!!
Q: I think he's attempting re-entry, sir!!
After this outlandish adventure, EON made Roger Moore return in a more serious and down to earth, For Your Eyes Only .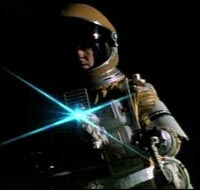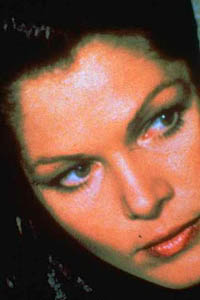 Back to top

Best viewed (rather, JavaScript effects ONLY viewed) with MS Internet Explorer, versions 4 and up.
Mandar Salunkhe is not associated with EON Productions, Danjaq LLC, MGM/UA or any of the creators of the James Bond films. 
James Bond copyrights held by respective owners.
Before calling up your lawyers, for suing me for Copyright infringement, please check out  why  I build this site.