Actor: Roger Moore
US Release Date: 18 Dec 1974
US gross, $ [adjusted]:20,972,000 [68,535,948]
Worldwide gross, $ [adjusted]: 97,600,000 [318,954,248]
World Premier - 19th December 1974, Odeon Leicester Square, London
Locations: London, Beirut, Macau, Hong Kong, Thailand, Scaramanga's island.

Source for above info: The " mother " of all James Bond books - James Bond: The Legacy.
Happenstance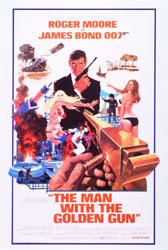 Strangely the teaser of "The Man with the Golden Gun" brings back memories of the teaser of From Russia with love . Reminiscent of the Connery flick, we are shown a wax dummy likeness of Bond losing its fingers to Scaramanga's (Christopher Lee) bullets. Similar to ‹bermensch Red Grant killing a Bond look-a-like by means of a garrote wire. Next we are shown beauties cavorting alongside the credits.
It seems that the three nippled (eeks!) Francisco Scaramanga, a world-class assassin who brandishes a distinctive golden gun has a fetish to be hailed as the best gunslinger this side of the Wild West. And the only other claimant to the title is our secret agent. Hence 007 is about to become Scaramanga's next target.
Info taken from " MR. KISS KISS BANG BANG! ", the Granddaddy of all James Bond websites.
Coincidence
         
After a golden bullet with 007 carved on it arrives at MI6, alarm bells start ringing as Agent Bill Fairbanks 002 was earlier killed in Beirut in a cabaret with a lady called Saida. The mention of the lady sends 007 to the cabaret where he swallows the golden bullet that was situated in the belly button of Saida:
Saida: Oh no!! I've lost my charm.
Bond: Not from where I'm standing.
Bond is further led to Lazar, the man who made the golden gun. Bond makes Lazar spill out the goods about the golden gun.
Lazar: Mr. Bond, bullets do not kill, it is the finger that pulls the trigger.
Bond: Exactly....I'm now aiming precisely at your groin. So speak or forever hold your peace (piece).
Bond reaches Bangkok to trace out Scaramanga, and meets Mary Goodnight (Britt Ekland) a beautiful but dumb blonde contact in the Far East.
Bond: Your frock. Tight in all the right places. Not too many buttons.
Goodnight: Standard uniform for South East Asia. The buttons are down the back.
Bond: Designed by Q no doubt. One of them is a suicide-pill, I suppose.
Goodnight: No, but the bottom one has a homer in it.
Bond: How original.
Later he has the pleasure of the company of Scaramanga's sensual lover Andrea Anders (Maud Adams) in his hotel room. Scaramanga later kills Andrea but not before she reveals the facts about Scaramanga.
Bond is going to Business tycoon Hai Fat's place for dinner where he is assaulted by martial arts maniacs who take Bond to a Karate school to be a punching bag for the students. Bond uses his wits and escapes from the school and then we witness the mandatory Bond chase, on water and also get to meet J.W. Pepper, the Sheriff from Live and let die . Meanwhile Goodnight who is snooping around Scaramanga's car tries to place a homer in the boot. Scaramanga sees her and throws her in the boot. Bond jumps into a red AMC Hornet with J.W. Pepper to get after Scaramanga.
J.W. Pepper: You're that secret agent, that English secret agent, from England.
Later when Bond notices that Scaramanga has gone across the river in his car, he decides to jump across a river during the car chase:
Pepper: You're not gonna...?
Bond: I sure am, Boy!!
Bond performs a 360-degree barrel roll while jumping the river. The stunt was first modeled on a computer and was captured in one take. Cubby Broccoli - producer of the Bond films - was so happy with it that he gave the driver a $1,000 bonus on the spot. The jump is technically called the "Astro-Spiral Jump" as it was first performed at the Houston Astrodome.
Enemy Action
            
Later Scaramanga converts his car into a flying machine and flies off into the sunset with Goodnight and Bond is left watching awestruck. Due to the homing device in Goodnight's dress, Bond flies down to Scaramanga's island and meets Nick Nack(Herve Villechaize) ,a midget who welcomes him to Scaramanga's island.
Bond: I've never killed a midget before, but there can always be a first time!
Later Scaramanga reveals his ghastly plan (mandatory Bond item) to use the "Solex Agitator," a device that will harness the sun's radiation and give awesome power to whomever possesses it. (This movie was timed during the Mid-Seventies Oil crisis). Scaramanga invites Bond to a duel to the death.
Scaramanga: You see Mr. Bond, like every great artist I want to create an indisputable masterpiece once in my lifetime. The death of 007 mano en mano, face to face, will be mine.
Bond: You mean stuffed and displayed over your rocky mantelpiece?
Scaramanga: That's an amusing idea but I was thinking in terms of history.
Bond: There is a useful four letter word, and you're full of it.
Scaramanga: A duel between titans......my golden gun against your Walter PPK!
Bond: One bullet against my six?
Scaramanga: I only need one, Mr. Bond!!
And needless to say our double-oh guy manages to out shoot Scaramanga and rides off from the exploding island in a Junk with the bikini clad Mary Goodnight.
Later Bond is attacked by Nick Nack whom he locks up in a suitcase, leaving him free to do what he does best.
Goodnight: What's the matter?
Bond: Something came up!
Bond on the phone: Hello?
M: Ah, there you are Bond...Well done. Congratulations!
Bond: Thank you, Sir.
M: Is Miss Goodnight with you? I would like a word with her...
Bond: Hold on, Sir.
M: Bond...Bond, are you there? ... Goodnight...?
Bond: She's just coming, Sir!
M: ...Goodnight...? Goodnight...? ...GOODNIGHT!
Bond: Good night, Sir!
This movie was not a great success at the Box Office, and ends up being the least successful movie of the series. Many people attribute it to the fact that the movie is not as grand in scale as the earlier movies and the fact that the villain has better and larger gadgets than Bond. Responding to these charges, EON came up with a grand canvas for Roger Moore to return as 007 in The spy who loved me .

Back to top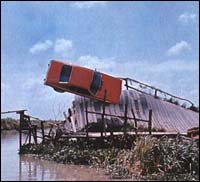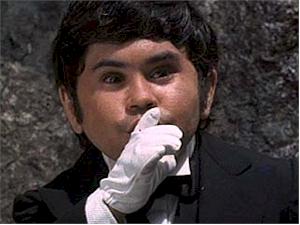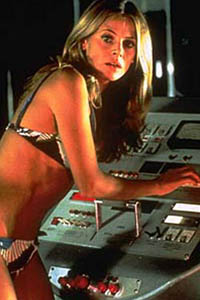 Best viewed (rather, JavaScript effects ONLY viewed) with MS Internet Explorer, versions 4 and up.
Mandar Salunkhe is not associated with EON Productions, Danjaq LLC, MGM/UA or any of the creators of the James Bond films. 
James Bond copyrights held by respective owners.
Before calling up your lawyers, for suing me for Copyright infringement, please check out  why  I build this site.