Actor: Roger Moore
US Release Date: 17 Dec 1973
US gross, $ [adjusted]:35,377,836 [128,646,676]
Worldwide gross, $ [adjusted]: 126,400,000 [459,636,364]
World Premier - 27th June 1973
Locations: London, New York, New Orleans, San Monique

Source for above info: The " mother " of all James Bond books - James Bond: The Legacy.
Happenstance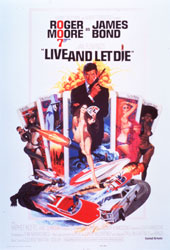 Live and Let Die
Buy This Poster At AllPosters.com

Sean Connery looked a bit too old to be Bond in Diamonds are forever . All credit to him for carrying off the part sheerly on the basis of his star power and his screen presence. Instead of a younger guy, Eon decided on a 45 year old actor,Roger Moore to play Bond. Interestingly Moore is older than Sean. But strangely he is not seen in the teaser of Live and Let Die. Reminiscent of Dr. No , we are shown three of Her Majesty's stiff upper-lipped agents being stiffed up further by a voodoo cult. Would be stiff(WBS) No. 1 is killed by an sound wave sent through his earphone's(Must have heard David Hasselhorf sing!), WBS No.2 is stabbed while watching a funeral procession, while WBS No. 3 is subjected to snake bite by a Voodoo high priest . Still no sign of Bond. Next up is a series of shots of flaming skulls, to the tune of Sir Paul McArtney singing "Live and Let Die".

Instead of Q bringing the gadgets, it is Miss Moneypenny who brings Bond his gadget watch. And we first lay sights on the new Bond in his London home, who is busy liasoning with a Miss Caruso (Madeline Smith). Miss Moneypenny saves the situation for Bond and avoids an incident with M. Bond is given the watch and he explains to "M" that pulling the stem on this Rolex, activates a "Hyper intensified magnetic field" powerful enough to even deflect the path of a bullet at long range. And starting the famed Moore tradition of mixing business and fun, he uses the Rolex to whisk a spoon off of "M"s coffee saucer, and later, to unzip Miss Caruso's dress. And thus starts the seven film long relationship of Roger Moore with 007. Start the canned laughter.

Info taken from " MR. KISS KISS BANG BANG! ", the Granddaddy of all James Bond websites.
Coincidence
         
Bond leaves for New York, where he goes after Mr. Big (Yaphet Kotto). Mr. Big as he is known on the streets of Harlem is actually Kananga, a leader of San Monique Island, a Banana republic in the Carribean. It seems that the GDP of San Monique Island is due to the wide spread cultivation of heroin and as Mr. Big he gets the green stuff in exchange for the white powder in Harlem. And keeping the Bond tradition of world domination, Kananga is engineering a globally threatening scheme using the national produce of San Monique Island, i.e. heroin. As Bond enters Harlem, specifically Mr. Big's "Filet of Soul" restaurant.he meets Tee-Hee (The sidekick to Mr. Big), Mr. Big and Solitaire (Jane Seymore). Before she took up a crash-course in medicine and became TV's Dr. Quinn Medicine Woman, Seymore plays a naive tarot card reader in the service of Mr. Big. It seems that her psychic powers are due to the fact that she is a virgin. As Bond, being Bond, assumes the duty of teaching her about the Birds and the Bees.
Bond: Black queen on the red king, Miss...?
Solitair: Solitair!!
Bond (turning over a tarot card): The fool.
Solitair: You have found your self.
But before any further dealings with the maiden, Bond is almost snuffed out in Harlem but after tackling hordes of SPECTRE agents in his earlier escapades, taking care of a bunch of Harlem toughies is child's play for our agent. And Bond sets out for San Monique Island, where he meets Rosie Carver (Gloria Hendry), a seemingly hapless contact. After a bit of hanky-panky and after setting a poisonous snake on flames, Bond sets out for checking out the island. Here he comes to know that Rosie is a double agent out to betray Bond to Kananga. After Rosie is accidentally snuffed out, Bond checks out the poppy fields and then arrives at Solitare's place. And needless to say, Solitaire ends up losing her... gift to the suave agent.
With Solitaire in tow, Bond hijacks a double-decker bus and after the mandatory chase ends up in USA where he again loses her to Kananga. Kanaga who incidentally has a crocodile farm thinks that Bond would be good nutrition for his reptiles. But Bond literally runs over the crocodiles (I can't even imagine George "Wooden" Lazenby or even Sean Connery carrying off this ludicrous scene with such ease as Moore has. Hats off.) and what follows next is the best Boat chase in the entire series, through the Louisiana Bayou.
Enemy Action
               
Numerous speedboats chase Bond and the chase includes an incredible boat jump over a road by stuntman Jerry Comeaux. The jump stretched 95 feet and was accomplished with a jet boat and water-ski ramp. It set a world record at the time.
During this chase, we are introduced to Sheriff J.W. Pepper, a character we also see in The man with the golden gun . After demolishing all the speedboats, Bond returns to Kananga's island, just in time to save Solitaire. Later Bond and babe are tied together on a pool with a hungry shark with Kananga watching in glee. Bond uses his Rolex watch, with the top which can be set spinning so the serrated edge act like a miniature buzz saw, jumps in the pool and pops in a compressed gas pellet into Kananga's mouth. Needless to say, we have a messy end to Kananga's evil plans.
Bond: Well, he always did have an inflated opinion of himself.
After the Box Office success of this movie and the acceptance of the new Bond, Roger Moore returned again as 007 in The man with the golden gun , proving that the Bond franchise could continue without the Scot.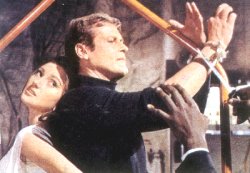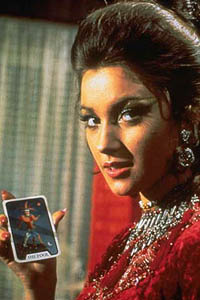 Back to top

Best viewed (rather, JavaScript effects ONLY viewed) with MS Internet Explorer, versions 4 and up.
Mandar Salunkhe is not associated with EON Productions, Danjaq LLC, MGM/UA or any of the creators of the James Bond films. 
James Bond copyrights held by respective owners.
Before calling up your lawyers, for suing me for Copyright infringement, please check out  why  I build this site.