Actor: Sean Connery
US Release Date: 21 Dec 1965
US gross, $ [adjusted]:63,595,658 [326,131,579]
Worldwide gross, $ [adjusted]: 141,200,000 [724,102,564]
World Premier - 9th December 1965 at Hibiya Cinema, Tokyo, Japan
Locations: France, Shrublands Health Clinic, London, Nassau, Bahamas, Miami.

Source for above info: The " mother " of all James Bond books - James Bond: The Legacy.
Happenstance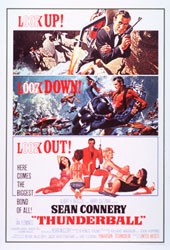 Thunderball
Buy This Poster At AllPosters.com

A long, long time ago, in a time when no one knew who James Bond was (In 1959), Ian Fleming and Kevin McClory, together with Jack Whittingham, Ernest Cuneo and Ivar Bryce, developed several screenplays, variously entitled "James Bond Of The Secret Service", "SPECTRE", "Longitude 78 West" and "Thunderball". Later "Thunderball" was forgotten till Bond ruled the Box Office with Dr. No , From Russia with Love and Goldfinger . Kevin McClory sued Fleming after seeing an advance copy of the novel "Thunderball". The trial was settled out of court within a month after the suit was filed. Fleming kept the rights to the book, but all subsequent editions are required to state: this story is based on a screen treatment by K. McClory, J. Whittingham and the author. McClory also was granted substantial monetary damages and all film rights to the scripts on which Thunderball was based. Ultimately Kevin made a deal with EON productions that gave him producer credit for the film. This film was nearly called "Mr. Kiss Kiss Bang Bang."

The teaser begins with Bond fighting with a guy disguised as a grieving widow. Not as cool as Goldfinger but still cool. Bond kills the dude who looks like a lady (apologies to Aerosmith) with a poker and later pulls out his jetpack and rockets off to safety. Tom Jones does the singing duty and the best part of the listless titles is a harpoon being fired between the legs of a prancing girl. And the best James Bond film with Sean Connery as 007 kicks off.

Info taken from " MR. KISS KISS BANG BANG! ", the Granddaddy of all James Bond websites.
Coincidence
         
Next we see a SPECTRE board meeting of super criminals chaired by who else but Ernst Stavro Blofeld or rather his hands and his pussy (oops, the pussy). SPECTRE hijacks a NATO plane and seizes two atomic warheads, each capable of killing millions of innocent people. And hence the best there is, the best there was and the best there will be is summoned. No, no, not Steven Seagal but our Bond, James Bond. Meanwhile Bond is rejuvenating himself in the health clinic at Shrublands in the TLC of Patricia Fearing (Molly Peters),a trained masseuse working at the heath club. She unwittingly puts Bond into a dangerous situation by strapping him to "the rack". He repays her with a massage with a mink glove. Bond accidentally stumbles on the SPECTRE scheme and disposes of some SPECTRE agents in a cool characteristic style. Bond is called back from Shrublands and Bond says farewell to Patricia:
Patricia: You will write, or telephone at the very least?
Bond: Oh, day by day. I'm truly sorry to have to dash off like this, but there's been a bit of a flap at the office.
Patricia: What kind of work do you do anyway?
Bond: Oh I travel, a sort of a licensed trouble shooter, ha ha.....
Patricia: Anytime James, anyplace.
Bond: Another time, another place.
While on the way to the office, Bond encounters a Killer Spectre agent (They don't just give up) who is blown apart by Fiona Volpe (Luciana Paluzzi),a seductive SPECTRE operative.
Bond: Yes, some people on the roads really burn you up these days!
Moneypenny: Ah-ah, in the conference room. Something pretty big. Every double-0 man in Europe has been rushed in AND the home secretary too!
Bond: Somebody's probably lost a dog!!
Bond jumps into action as the trail leads him to tropical Nassau. There he meets Emilio Largo (Adolfo Celi), the No.2 of SPECTRE, and his mistress stunning Domino (Claudine Auger).
Bond: Will I see you again?
Domino: It's a small island.
Bond: Perhaps we can have dinner together?
Domino: NO!
Bond: My dear uncooperative Domino.
Domino: How do you know that? How do you know my friends call me Domino?
Bond: It's on the bracelet on your ankle!
Domino: So, what sharp little eyes you've got.
Bond: Wait till you get to my teeth!!
Enemy Action
            
Later Largo invites Bond over for dinner (for his killer sharks) and Bond effortlessly swims out of trouble. Largo then sends over something much more deadly and dangerous than the sharks to kill Bond. The incredibly sexy Fiona Volpe. She later falls to Bond's lady charming charms, but is rewarded with a bullet in the back when she is accidentally killed by one of her own men. Bond does suffer a gunshot wound in the melee for the first and only time in the series. When Fiona is shot in the back, while dancing with Bond, he sits her down at a table with some people and says to them:
Bond: Do you mind if my friend sits this one out, she's just dead tired!
"Q" appears on the scene bringing with him a Rolex. The trick to this watch is that it functions as a Geiger counter to indicate radioactivity. As a part of his mission and bound by duty, Bond charms his way into the heart of Domino Derval (Claudine Auger, a former Miss France and naturally a ogler's dream come true). Domino betrays Largo when Bond informs her that Largo was responsible for her brother's death. As an emotional plot, the pilot of the Vulcan Bomber, which was brought down by SPECTRE is Domino's brother. During filming, a full-scale model of a Vulcan bomber was constructed and lowered into forty feet of water off Nassau and its skeleton remains there today and is a popular site for scuba-diving vacationers.
Finally in the climax we are led to an epic battle on the ocean floor, as Bond and his allies fight the SPECTRE divers to avert the nuclear explosion. This is the best underwater sequence in the entire Bond series and is somewhat equaled by the sequences in For your eyes only . Bond destroys the SPECTRE Boat and is saved by Domino who extracts her revenge by shooting a dart into Largo.
Thunderball won an Academy Award for Special Visual Effects and was a bigger hit at the Box Office than Goldfinger. After Thunderball, there was nothing Bond could not achieve. No villain or his hungry pets could stop him. No woman was beyond him. Thunderball thus was a film, which had a perfect balance between the audience's desire for Bond's one-liners, sex, gizmos and Fleming's story-telling. The film was remade in 1983 as Never Say Never Again produced exclusively by Kevin McClory without EON with an aging Connery returning to the 007 role, 18 years hence. But due to the mega-success of Thunderball which is indisputably the most successful film in the series, Sean Connery had to return as James Bond in You Only live Twice .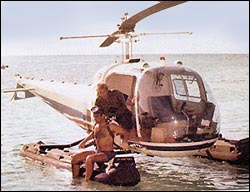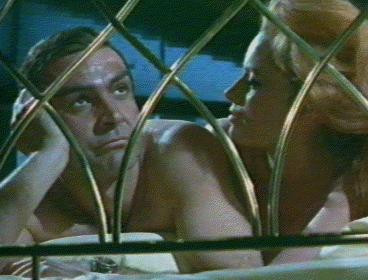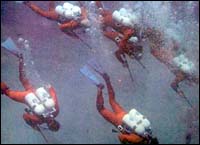 Back to top

Best viewed (rather, JavaScript effects ONLY viewed) with MS Internet Explorer, versions 4 and up.
Mandar Salunkhe is not associated with EON Productions, Danjaq LLC, MGM/UA or any of the creators of the James Bond films. 
James Bond copyrights held by respective owners.
Before calling up your lawyers, for suing me for Copyright infringement, please check out  why  I build this site.