Actor: Timothy Dalton
US Release Date: 31 July 1987
US gross, $ [adjusted]:51,185,897 [72,604,109]
Worldwide gross, $ [adjusted]: 191,200,000 [271,205,674]
World Premier - 27th June 1987, Odeon Leicester Square, London
Locations: Gibraltar, Bratislava, Czechoslovakia-Austria border, London, Vienna, Tangier, Afghanistan.

Source for above info: The " mother " of all James Bond books - James Bond: The Legacy.
Happenstance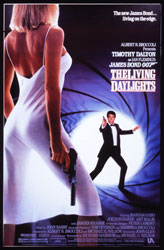 Two years after Roger Moore stopped playing Bond, a Shakespearean actor called Timothy Dalton was given the license to kill. And he did almost kill. He achieved something that George Lazenby, Blofeld, SPECTRE and the hordes of megalomaniacs almost didn't succeed at. Killing Bond. Not that the fault was entirely his. Timothy Dalton was born on March 21, 1946. In 1971 after Diamonds are Forever , Timothy Dalton was first approached for the Bond role. Well, he was only 25 years old and he turned down the role in '71 because he was "too young" for it. The disaster of George Lazenby in On Her Majesty's Secret Service , must have also played a major role in his decision. Another actor named Pierce Brosnan was also short listed to play Bond after A view to a kill . But his contractual obligations on his Television series "Remington Steele" did put a spanner in the works. Hence Timmy became 007. As the director of the film John Glen says, "When Timothy came on the scene, we had a fine Shakespearean actor, but he probably didn't have the humor that Roger had so we tailored the scripts accordingly. We made them slightly blacker or darker, in the sense that we wanted more dramatic situations. He was more ruthless and more of the original Bond and that was what we were trying to get back to."
In the teaser, Bond in commando training, parachutes onto the Rock of Gibraltar for a training exercise that turned deadly. Later, Bond uses a parachute to escape from a burning jeep that drives off a cliff into the waiting arms of a bikini-clad babe on a boat. The serious attitude of Timmy boy is evident right from the start and is quite a change to handle from the happy-go-lucky devil-may-care attitude of Roger Moore.
The titles with the Title track by A-HA roll on listlessly.
Info taken from " MR. KISS KISS BANG BANG! ", the Granddaddy of all James Bond websites.
Coincidence
      
Bond is entrusted with the mission to help Russian officer Georgi Koskov (Jeroen Krabbé) defect to the West. Meanwhile, a concert cellist, Kara Milovy (Maryam d'Abo) is set up by Georgi Koskov,her boyfriend, as the sniper to make his defection look real.
Koskov: What about the border, how will I get out?
Bond: Fear not Georgi we have a pipeline to the west!!
And literally, Bond helps Koskov defect by putting him in a oil pipeline from the East to the West. Further, things get more complicated whenan assassin with exploding milk bottles abducts Koskov from his remote hiding place.
Bond follows the trail to Kara, and the mandatory car chases ensue with Bond driving a sleek Aston-Martin car, outfitted with high-powered lasers and a rocket engine. Bond escapes with her but here we can't help but notice that Kara is shown to be more of dumb blonde than any other Bond girls, Tanya Roberts as Stacy Sutton included.
Enemy Action
      
Later, Bond unravels a complex weapons scheme involving Koskov and the Afghanistan rebels. Hence after the mandatory thrills and spills, Bond ventures into Afghanistan (which was then occupied by the commies, and was a hot item for Hollywood, with even Rambo blowing up a few commies there in the dud Rambo III). Here in a Soviet prison they meet Kamran Shah, who is the leader of the freedom struggle. Incidentally because this is B.O. (Before Osama), these Taliban dudes are called freedom fighters and are Her Majesty and CIA's bosom buddies. All that will later change. But not in this movie.
Bond: What's going on?
Kamran: I tell them you no Russian. They not kill you now.
Kara: Not now. How about later?
Bond: Don't worry. They'll save you for the harem.
And after a terrific mid-air fight in a Russian transport plane, Bond uses a vehicle parachute to pull a jeep - with him and Kara - out of the plane just before it crashed. This is one of the best stunts ever in a Bond film and makes the movie worth watching. Just ignore Timmy's serious acting throughout the movie. Finally, as always Bond knocks off the bad guys and for a drastic change gets the gal only in the end. The movie did make good money, but Dalton is a fine actor but many still can't see him as James Bond. Well, we will have to blame Roger Moore for that, as he almost completely changed Bond's character from the one we have seen in the Ian Fleming books. Maybe, if Timmy had arrived before Moore did we would have liked him but Moore changed it all. Any day, Timmy is a better Bond that George Lazenby.
And hence he did return for the second and the final time in License to kill .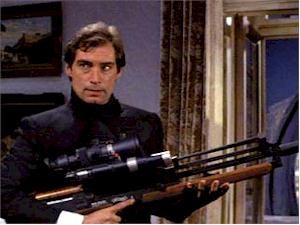 Back to top

Best viewed (rather, JavaScript effects ONLY viewed) with MS Internet Explorer, versions 4 and up.
Mandar Salunkhe is not associated with EON Productions, Danjaq LLC, MGM/UA or any of the creators of the James Bond films. 
James Bond copyrights held by respective owners.
Before calling up your lawyers, for suing me for Copyright infringement, please check out  why  I build this site.