Actor: Sean Connery
US Release Date: 22 Dec 1964
US gross, $ [adjusted]:51,081,062 [266,047,198]
Worldwide gross, $ [adjusted]: 124,900,000 [650,520,833]
World Premier - 17th September 1964, Odeon Leicester Square, London
Locations: Mexico, Miami, London, Goldfinger's golf club in Kent, Switzerland, Kentucky, Washington DC.

Source for above info: The " mother " of all James Bond books - James Bond: The Legacy.
Happenstance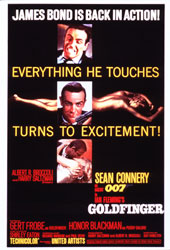 Goldfinger
Buy This Poster At AllPosters.com

The sight of Connery rising from the waters with a fake duck on his head starts Goldfinger, the movie that would place James Bond as a cultural phenomenon, and shatter box-office records worldwide. This teaser was parodied in the Schwarzenegger hit "True Lies" which also was loosely made like a Bond film. But Sean in his best as James Bond is not a machine-gunning Rambo-type, but rather a well-dressed, martini-sipping cool dude, unruffled by even when death is inches away. Bond lays bombs around a Mexican drug factory (also featured in the novel) before slipping out of his wet-suit to reveal an immaculate white tux with a red carnation.

Later in the teaser, Bond seduces a gal,
Girl: Why do you always wear that thing?
Bond: I have a slight inferiority complex.
and disposes of a would be assasin by electrocuting him in a bathtub:
Bond: Shocking, positively shocking!!
Shirley Bassey sings the mandatory Bond theme, as scenes from the film flicker over a host of gilded beauties. This would to be The teaser of the series and would prove to be the benchmark for almost equally fantastic teasers in The Spy Who Loved Me , For your eyes only and Goldeneye .

Sean Connery was supposed to work with director Terence Young for the third consecutive time on "Goldfinger," but early in production Young left and was replaced by Guy Hamilton, who injected the film with ample doses of humor, giving a whole new facet to the Bond image. Info taken from " MR. KISS KISS BANG BANG! ", the Granddaddy of all James Bond websites.
Coincidence
      
In Miami, Bond is first introduced to a powerful tycoon Auric Goldfinger (Gert Frobe) who is a cheat at cards. Bond exposes his deeds and his gal Jill Masterson respectively who helps Bond to foil Goldilock's money winning card scam. Later she faces Mr. G's wrath who paints her with a body enveloping gold and thus dies from skin suffocation. Eaton became the icon of Bondmania after appearing on the cover of Life magazine covered with gold. Actually, two women were painted gold to film the scene, Eaton and model Margaret Nolan.
Moving on, Bond drives the car that has become perhaps the most famous car in the world. The classic Aston-Martin DB-5. Bond drove the Aston-Martin DB-5 in the films Goldfinger , Thunderball , and Goldeneye . In 1997, the original DB5 was stolen from an airplane hangar in Florida where it was being stored after touring Europe.
At a golf game, which naturally Bond wins (as at everything else too), Goldfinger introduces our secret agent with Oddjob (Harold Sakata), the mute servant who kills at the toss of a lethal hat. Here Mr. Goldfinger utters the immortal line " Once is Happenstance. Twice is Coincidence. The third time is Enemy action". The line that inspired the title for this web site. Later Bond runs into (literally, when he rams his Aston Martin into her car) Tilly Masterson (Tania Mallet) who is Jill's sister. Tilly wants to avenge the death of her sister and hence follows Goldfinger to Switzerland where she attempts to shoot him. And as if she would have killed Goldie, then there would have been no further movie; hence Oddjob and his amazing hat quickly dispose her off.
Next follows a chase with Bond in his specially equipped Aston Martin (Accessories: built-in machine guns, a smoke screen and an ejector seat) and baddies in their worthless vehicles. Later Bond crashes in the walls of Goldfinger Inc. and is led to the famous torture sequence with a laser cutting through the table with Bond bound on it.
Bond: Do you expect me to talk?
Goldfinger: No Mr. Bond, I expect you to die!
Enemy Action
               
Bond is knocked out on the table and wakes up on an airplane next to an athletic, husky-voiced and aptly named, Pussy Galore (Honor Blackman) who is Goldfinger's personal pilot. In the novel, Pussy has some lesbian tendencies but these are missing in the film, but still Pussy is a memorable Bond girl with a dislike for men.
Pussy: My name is Pussy Galore.
Bond: I must be dreaming!
Later Bond comes to know that Auric Goldfinger has initiated "Operation Grand Slam," a fiendish scheme to raid Fort Knox, and to blow up the U.S. gold reserves at Fort Knox to increase the value of his own gold supply and in turn obliterate the world economy.(Same old mandatory World domination theme). Pussy helps Bond to foil Goldfinger's plan to break into Fort Knox by replacing the canisters of deadly gas she was supposed to spray around Fort Knox with a harmless substitute and by calling up the CIA and warning them of the impending doom. Inside Fort Knox, Bond electrocutes Oddjob and stops a time Bomb just in the nick of time. Finally Bond confronts Goldfinger in a plane and manages to throw him off the craft.
With style, wit and awesome stunt sequences, this adventure made Bond into a action hero and made Goldfinger one of the all-time great action flicks. The film shattered box-office records worldwide and with a worldwide gross of $124,900,000, the spy mania was in full swing. Goldfinger won an Academy Award for Best Sound Effects (1964). But Ian Fleming never lived to see Goldfinger. He died August 12, 1964 (aged 56), shortly before Goldfinger s release. During production of "Goldfinger" Kevin McClory won the rights to one of Ian Fleming's stories. To prevent a rival Bond production, EON allowed Kevin McClory to produce their next film, Thunderball . This film was nearly called "Mr. Kiss Kiss Bang Bang."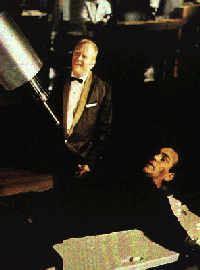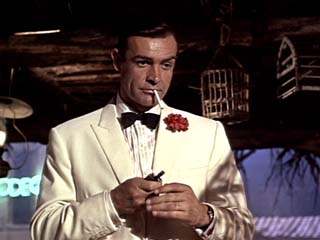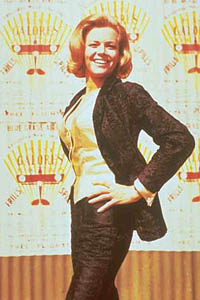 Back to top

Best viewed (rather, JavaScript effects ONLY viewed) with MS Internet Explorer, versions 4 and up.
Mandar Salunkhe is not associated with EON Productions, Danjaq LLC, MGM/UA or any of the creators of the James Bond films. 
James Bond copyrights held by respective owners.
Before calling up your lawyers, for suing me for Copyright infringement, please check out  why  I build this site.