Actor: Pierce Brosnan
US Release Date: 22 November 2002
US gross, $160.2 million
Worldwide gross, $ 424.7 million
Second most successful Bond movie at the Box Office.
World Premier - 19th November 2002, London
Locations: PukchOng Coast, North Korea, Korean DMZ, Hong Kong, Havana, Sierra De Los Organos, Isla Organos, Cuba, London, Vatnajokull, Iceland.

Source for above info: The " mother " of all James Bond books - James Bond: The Legacy.
Happenstance
   
   

You Only Live Twice
Buy This Poster At AllPosters.com


The movie starts with the trademark opening shot of Bond shooting into the camera but with a bullet whizzing toward you.
Three surfers surf in the moonlight (a awesome scene) and land on a North Korean beach. One of the surfers pulls off his mask and we see the face of Pierce Brosnan back on his fourth mission as 007. Bond is posing as a South African agent exchanging "conflict" diamonds for weapons with a decadent North Korean Colonel Moon (he is not a werewolf, though). Here he meets Moon's second in command, Zao (Rick Yune) who contacts a traitor in MI6 to check out Bond's real identity. Bond's cover is blown and so he escapes in a high-speed chase in hovercrafts, over a road packed with land mines. During his escape he blows up the briefcase with C4 explosive in the face of Zao who now gets a "sparkling personality" due to the diamonds in his face. Bond dodges flamethrowers and machine-gun fire and jumps all over hovercrafts. This bang bang action is reminiscent of the start of Tomorrow Never Dies" . Later Moon falls into a waterfall and Bond is left dangling to a bell.
Bond: Saved by the bell.
But then something happens which never happened in the 40 years of James Bond. Bond is captured by the rest of the North Korean commies, and as the mandatory credits roll over the title Madonna song, images of Bond babes cast in melting gold are superimposed on the torture to Bond: beatings, scorpion injections, his face held under ice water.
What just happened! Is this the same 007 who could outwit sharks, piranhas and moonwalk in outer space? Is this going to be an unBondlike adventure?
Neal Purvis and Robert Wade who wrote the screenplay had earlier in The world is not enough , played with Bond's invulnerability by giving him a dislocated shoulder. This incarnation and torture is very Ian Flemingish and throws the Bond formula for a twist.

Info taken from " MR. KISS KISS BANG BANG! ", the Granddaddy of all James Bond websites.
Coincidence
      
      

Bond is tortured for 14 months before emerging with a very un-chic look and finally starts looking like Robinson Crusoe meet Castaway Hanks. The only difference is that here there is no volleyball to chat with for him. The only company Bond has is a group of scorpions. Maybe he called them Wilson.
He doesn't even get a Q gadget led escape and the hirsute and bearded Bond, ready for "Cast Away 2," just bids his time. As he is Mr. Cool, he doesn't break under the interrogation. And the British keep their stiff upper lip and deny his existence, and Bond rots in jail for 14 months.
Finally he is traded off for Zao who is now an international terrorist. Bond is kept in a glass room (like Hannibal) under observation by doctors who note that throughout the torture his internal organs are quite good except for his liver (the martinis taking their toll). M (Dame Judi Dench) is furious Bond did not kill himself and believes Bond gave up secrets under torture. M wants to send Bond to the Falkland Islands for evaluation. M looking Mini-Me like 4 feet tall to Bond's 6 feet, revokes 007's 00 status.
M: "While you were away, the world changed."
But Bond's mojo is not in his 00 status. Bond escapes from his medical prison (on a Brit ship) in Hong Kong. He walks into a 5 star hotel in prison issue pajamas still wet from his swim with a hippie look and asking for his usual room. Quite a twist from the chic looking Bond asking for a "Shaken not stirred" martini, but surprisingly this entire thing actually works. Something like this was attempted in License to Kill , this movie really works on this level when we see Bond working on his innate skills and talent.
There's just something cool about how you can take away everything away from Bond, but he's merely too cool to give a damn. Bond isn't about Tuxedoes and gadgets which movies like XXX (Vin Diesel) and Tuxedo (Jackie Chan) think. James Bond is THE man. Throw anything at him and he will handle it. All credit to Brosnan and Lee Tamahori (the director).
In the hotel, he is visited by a Chinese masseuse who calls herself Peaceful Fountains of Desire (what was that, come again?). But Bond smells a rat (served with Soya sauce) and he disarms the sexy masseuse who's got a gun strapped to her thigh and then smashes the mirrored wall and sees that Chinese spies are videotaping him. For penance for being Peeping Toms, the Chinese offer him free tickets and passports to Castro's Cuba. The city of Cadiz in Spain stands in for Havana because I don't think Fidel will allow James Bond to land on his commie land. In Cuba he meets an old Universal Exports contact after some spy gibberish about cigars. "One man's terrorist is another's freedom fighter," says the contact when he is asked about Zao. Bond coolly borrows a finny '50s Fairlane and a revolver and a pair of binoculars from the Cuban.
Here he is planning to drop into a plastic surgery clinic when he sees an American NSA agent named Jinx (Oscar winner Halle Berry), emerge from the ocean, just as Ursula Andress did in Dr. No. . She even wears a bikini similar to Andress' with a knife sheath on her hip. The only difference is that the bikini is orange colored. Then follows our mandatory double entrende introduction with the babe. Bond introduces himself as a visiting ornithologist. Casually scanning his crotch area, Jinx remarks, "That's quite a mouthful." After talking about birds, Bond teaches Jinx about the birds and the bees. After a night of passion, Bond follows Jinx to the health clinic where DNA transplants are transforming Zao into a Caucasian. Bond and Jinx destroy the clinic and along with it destroy Michael Jackson's only hope of regaining his disintegrating face.
These opening sequences are the most satisfying ones in Bond movies for a long time. Any other actor other than Connery did not show this level of coolness for Bond. That means a lot. Even a Shakespearean actor like Dalton couldn't do this but a TV actor like Brosnan succeeds and shows the level of acting he has gained over the years.
Later, we get to the mandatory villain who wants to take over the world. Enter Gustav Graves (Toby Stephens, Maggie Smith (Harry Potter's Professor McGonagall)'s son) the mandatory rich megalomaniac. His parachute entrance to the film for the British press is the most audacious introduction for a Bond villain.
Bond meets Graves at Blades, a fencing school. Bond's fencing instructor happens to be Verity (Madonna, who surprisingly doesn't suck).
Verity: "Do you fence, Mr. Bond?"
Bond: "I can keep my tip up,"
Verity: "I see you handle your weapon well."
Later Graves and Bond engage in a destructive fencing match with fencing swords, sabers, broadswords and finally fists. They end up wrecking the gent's club, even slashing up Gainsborough's "Blue Boy." The fight is really fantastic. Bond finally succeeds in thrashing Graves who is training for the Olympic team.
Verity's student is Olympic champion Miranda Frost (Rosamund Pike). Graves invites Bond to the unveiling of Icarus, a space thingy (like the ones Dr. Evil makes), in Iceland. Graves has built an enormous ice palace especially for the presentation.
Bond has to visit Q (John Cleese) for the gadgets before he goes to wreck the villain's ice palace. Here Bond plays with mementos of previous Bond adventures - a jetpack from Thunderball , the poison-tipped shoe in From Russia with Love , the croc-mobile from Octopussy , the scuba equipment from Thunderball . Q gives Bond an Aston Martin V12 Vanquish with missiles, pop-up machine guns, ejector seat and invisibility (yes, invisibility). Q also gives him an ultrasonic ring to shatter glass.
Then we are treated to a stunning view of the world's biggest igloo, an ice palace build in the western coast of Iceland. Bond meets Miranda and Jinx here. Things move fast from now on. Miranda is a MI6 agent.
Miranda Frost tells Bond, "I know all about you, 007. Sex for dinner, death for breakfast."
In reply, Bond explains his Big Bang theory to Miranda and has a defrosting session with her.
Bond meets Jinx. Jinx gets captured by baddies. Bond saves Jinx. The good thing in this part is that Jinx is tied down and tortured with a laser, like Connery's Bond was in Goldfinger" . Bond comes to know that Graves is planning the destruction of the world through the use of Icarus which carries the solar power to barbeque you before you can spell barbeque. Here we come to know exactly who has lived to die another day and also who was the traitor who caused Bond's betrayal. The traitor part is quite straightforward but the identity of the person who has lived to die another day is quite a twist.
Then the explosions and the stunts begin. There is fight between Bond and mandatory disposable henchman (named Mr. Kill, "a name to die for" quips Bond) in a lab where laser cutters run amok. Bond leaps into an ice glider and races just ahead of Icarus's sunbeam that's trailing him. In the process he breaks Graves's speed record (Is there anything Bond cant do, other than not escaping from a commie prison?).
The deadly sunbeam sends Bond off a cliff into the sea below, where a falling glacier creates a mega tidal wave. Bond surfs again on this tidal wave and this scene is to be seen to be believed. The Bond of The spy who loved me" who skied off a cliff and sailed down in a parachute is back.
Later Zao and Bond have a cool car chase when Zao's Jaguar tries to outmatch Bond's Aston gadget for gadget. This is the first time a No.2 has equal gadgets as Bond and hence the chase is enchanting. Then the Jag tails the Aston Martin up the ramps of the hotel through curtains of melting ice water as Bond races to rescue Jinx from drowning. Jinx endures a drowning, like Denise Richards in The world is not enough . Bond manages to use the invisibile car to make Zao disappear and saves Jinx.
Enemy Action
         
      

Everyone heads back to North Korea on a cargo plane that blows up. Jinx tries to prevent the jet from crashing while fighting a babe versus babe duel with Miranda. Bond and Graves (in a Robocop outfit) fight in another section of the plane.
Finally all ends up well and the bad guys get their due (mandatory item).
At the end there is a fantastic piece with Moneypenny (Samantha Bond, who has started to look like Judi Dench, who plays M) continuing the fine tradition of all Brosnan Bond's.
Jinx: "Leave it in, I want to play with it"
It's a diamond Bond has placed in her navel. Roger's jokes have made a comeback here.
This is a movie much better than all the Bonds since 'For your eyes only' . Lee Tamahori, the director made "The Edge," with Alec Baldwin, Anthony Hopkins and a bear. Here he gets a bigger budget and better actors than a bear. Almost every character from Miranda Frost, Zao, Graves (who played Clint Eastwood in Space Cowboys), and Jinx is top class. Jinx and Bond's chemistry is not so hot and also some of the action seems a bit dragged out. But what do you expect, Citizen Kane?
Anyone who doesn't like this movie deserves to spend the rest of his days in the North Korean prison tortured by scorpions. This piece has rambled on for a long time but what the heck, I really liked this movie.
This movie proves finally that Pierce Brosnan IS Ian Fleming's James Bond, 007. Bond cleans his Walther P99 and places it under his pillow before having a shag. Yes, James Bond rules…
With the fantastic record-breaking opening of $47 million, this movie had and the super fast run to $100 million that this movie enjoyed, James Bond will return in Casino Royale .

Back to top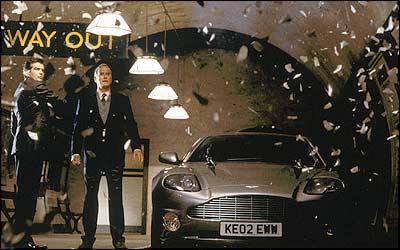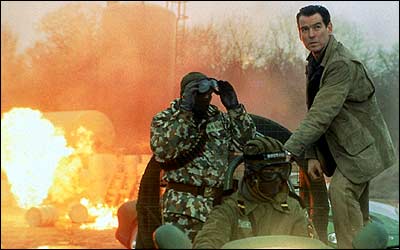 Best viewed (rather, JavaScript effects ONLY viewed) with MS Internet Explorer, versions 4 and up.
Mandar Salunkhe is not associated with EON Productions, Danjaq LLC, MGM/UA or any of the creators of the James Bond films.
James Bond copyrights held by respective owners.
Before calling up your lawyers, for suing me for Copyright infringement, please check out  why  I build this site.