Actor: Pierce Brosnan
US Release Date: Nov 1999
US gross, $126,930,660
Worldwide gross, $352,000,000
World Premier - 8th November 1999, Bruin and Fox Theatres, Los Angeles
Locations: Bilbao Spain, London, Scotland, Baku, Azerbaijan, Kazakhstan, Caspian Sea, Istanbul.

Source for above info: The " mother " of all James Bond books - James Bond: The Legacy.
Happenstance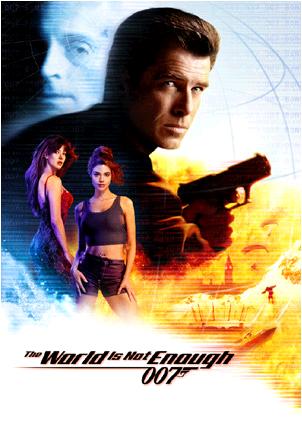 The World is Not Enough
Buy This Poster At AllPosters.com They say that the third time is the charm. It was true with Connery in " Goldfinger" , Moore in " The spy who loved me" and not so lucky for Mr. Wooden Lazenby and Mr. Shakespeare Dalton who didn't get the third chance. After the resounding success of his previous film, " Tomorrow Never Dies" , Pierce Brosnan assumed the mantle of Bond for the third time.
And yes, he does prove that the third time is the charm. After three movies, Pierce Brosnan is James Bond. And here he does play Bond in his own terms and not getting back to his Remington Steele (read: TV Actor) routine. This is evident right from the pre-credit teaser sequence, where James Bond collects some money at a bank near the Guggenheim museum in Bilbao, Spain, and starts the longest and best Bond pre-credits sequences ever. The movie starts right over here and the sequence after a bit of dangling tricks by Bond leads us to MI6 HQ where a millionaire gets blown up by the money Bond has just brought back and Bond spots a sexy athletic assassin known as The Cigar Girl (played cooly by Maria Grazia Cucinotta). And as Bond cannot resist a lady, he follows her in a high-speed boat chase on the Thames. Probably the coolest boat chase in Movie history after the spectacular one in " Live and Let Die" and John Woo's 'Face/Off" (the one with John Travolta and Nicholas Cage), there are stunts galore and Bond is really pushed to the limit. In a cool scene during the chase, when Bond's watercraft goes underwater for an instant, Bond adjusts his tie! The chase ends on a hot-air balloon with a bang on the Millennium Dome.
The credits roll out to the sound of Garbage's Title track and the sight of oil-drenched damsels gives the viewer an indication of the things to follow. Not the damsels, but the oil. Info taken from " MR. KISS KISS BANG BANG! ", the Granddaddy of all James Bond websites.
Coincidence
   
James Bond is not as indestructible as he seems to be. Here Director Micheal Apted plays a very risky gamble and wins. Bond is hurt and dislocates his shoulder during the fall in the pre-credit sequence. After offering suitably warm overtures to the nubile Dr. Warmflash he does clear his medical examination but does suffer from the pain. He further gets orders from M (again Judi Dench for the third time, and really settling in her matriarchal role), is to protect oil heiress Elektra King (the delectable French damsel Sophie Marceau) from international terrorist Renard who had earlier kidnapped her. And yes, the millionaire killed in the pre-credit was Electra's father. Renard (Robert Carlyle acting just right for the role) has an with a bullet in his brain (put there by 009, nonetheless) that renders him impervious to pain.
Renard is a welcome change from the over the top (read: hammy) Carver from " Tomorrow Never Dies" . The only sore point is that he doesn't have any piranhas, sharks or lasers (or frigging sharks with lasers like Dr. Evil) which can cut our suave agent into thin slices. He does try his best when Electra and Bond go skiing when he dispatches his para-sking group of assassins to kill Bond. But Bond who has tackled such guys with ease in the past does so again, his hurting shoulder notwithstanding. Another point worth mentioning here is the passing of the baton of 'Q' from Desmond LLewelyn, whose techno-master Q has been supplying 007 with his gizmos, to Monty Pythonite John Cleese as Q's accident-prone assistant R. And after the passing away of Desmond LLewelyn, a few days after this movie was released, we are sure to miss Desmond as Q in the future Bond films. John Cleese does do a cool job of it though. Further Bond visits a casino wearing X-ray sunglasses (and he does ogle a lot) to meet Valentin Zukovsky (Robbie Coltrane), the ex-KGB arms merchant who we had earlier seen in " 'Goldeneye.' . Taking Valentin's help he traces the whole plot to several rival oil pipelines and a megalomaniacal (a compulsory emotion in 007 Films) scheme to exploit or destroy them. Here he does cross paths with The Bond Babe Christmas Jones (ultra babe Denise Richards) as, believe it or not, a nuclear scientist. With her wet T-shirt and hence clearly visible assets and the finer points of her talent, it is clear that Director Michael Apted does still believe that he is making a Bond film. She is there as eye candy and an ogler's delight and does carry off the part well.
Enemy Action
   
Further our secret agent does come to understand the real villains behind the piece. But it is too late as M is kidnapped by Renard and held hostage. Bond thus goes off to save the world and M from the evil machinations of Renard and his allies (see the movie to find out who). Here we are treated to an awesome chase where Bond is chased by two helicopters with cutters mounted on them. And as always Bond does have a close shave.
The entire piece culminates in a submarine off the coast of Istambul where we come to the only sore part of this movie. This movie doesn't end in a mega blast like almost all Bond movies do, but is seemingly a man-to-man combat between Bond and Renard, reminiscent of the Bond-Scaramanga skirmish in " 'The Man with the Golden Gun.' The submarine sequences though cool don't fit as a Bond movie climax but here we are treated to an alluring sight of the drenched Christmas Jones. That is the only saving grace in the climax. And as always, Bond does kill off Renard (in a very silly manner, which you have to see to believe) and lands up enjoying the Christmas vacation. For the first time, since long (maybe after " 'For your eyes only' , have we seen a well made Bond film which does not merely depend upon its explosions to take the story forward. And the credit to that should go to Director Michael Apted who has assembled a cool cast of thespians to give Pierce company. And all this without forgetting that he is making a Bond film and not a normal action film. Mention must also be made of Sophie Marceau as Electra who becomes the pivotal point of the entire film. Cool job.
And after yet another success as James Bond, Pierce Brosnan returns as James Bond in 'Die Another Day.'

Back to top

Best viewed (rather, JavaScript effects ONLY viewed) with MS Internet Explorer, versions 4 and up.
Mandar Salunkhe is not associated with EON Productions, Danjaq LLC, MGM/UA or any of the creators of the James Bond films. 
James Bond copyrights held by respective owners.
Before calling up your lawyers, for suing me for Copyright infringement, please check out  why  I build this site.